I am currently writing a book to help people find their own unique voice. This self-help book is about the healing powers of nature and music. It is filled with my poetry and teachings along with my own personal journey. Look for my memoir/ self-help book titled "The Healing Powers of Nature and Music" to be published in 2020.
My children's book, "Songs of the Woods" encourages children to begin and end each day with a song from the heart. You can find more information on this website or purchase on Amazon.
You may want to invest in the original music that accompanies the book, it is also available on Amazon for download. As a bonus, it includes new lullabies you can play to put your little ones to sleep.
I also do a musical book reading/ puppet show for libraries and children's parties. Contact me for details.
Singing should feel like a meditation.
After graduating from the Boston Conservatory of Music I spent many years exploring breath-body mastery and integrating Eastern and Western approaches of yoga, tai-chi, Alexander and Bel Canto techniques to help the singer achieve a beautiful, natural sound with a two and a half octave range.
I recently developed the highly successful Musical Theatre and Contemporary Vocal programs at the Judith Wharton Music Center where I worked for four years as Director of Musical Theatre.
Prior to that I was the founder of Stagestruck Performing Arts Center with locations in Cranford, Short Hills, and New Providence. Here, I developed art, dance, drama, musical theatre and vocal programs for thousands of students from age 3-to adult and arts and education programs for over 25 schools and senior centers.
I have been teaching drama, voice, cabaret, public speaking, yoga & the voice and improvisation for over 35 years. Many of my students have performed and directed on and off Broadway and in theater and concert venues throughout the world. Some are teachers, music therapists and yoga instructors, but all of my students share one thing in common-the importance of music in their daily lives.
I have been blessed to sing with some amazing big bands and jazz ensembles the past 25 years.
Besides singing, I've acted and directed in theaters throughout the East Coast. Some of my favorite roles were in the shows "I Do, I Do," "Love Letters," "Starting Here," "Starting Now," "Nuts" and "Mame."
Recently I had the honor to direct Tony and Emmy award winner Len Cariou at the Milford Theatre in "Love Letters" launching the Milford Readers and Writers Festival 2017.
When I'm not singing with my jazz trio …and All That Jazz you can find me hosting Open Mics for Writers and Poets and breaking new ground with my Poetry Jazz.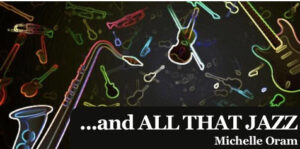 I believe everyone has a Voice!